JUST ANNOUNCED!
Meet our 8x10 Smart Vent
Now available for pre-order.
Shipping in February.
Pre-order & Save 10%
Home Comfort Made Simple
Eliminate hot and cold spots in your home

Save money and energy by only heating or cooling occupied rooms

Independent temperature control for each room.
What is a Smart Vent?
Flair Smart Vents replace your existing floor, ceiling, or wall vents.
They automatically open and close to adjust airflow and eliminate hot and cold spots.
How Do They Work?
Smart Vents can integrate with your smart thermostat or work alongside your traditional thermostat to redistribute air distribution in your home.
They run off of your comfort preferences set in the Flair App.
Powered by 2 x C-Cell batteries (included) with 2-3 year battery life. 24VAC wired installation also available.
Who Are They For?
Anyone with vents in their home.
People interested in saving energy—save up to 30%.
Homes with hot and cold room problems.
The Flair App guides you through installation—no tools or special skills required.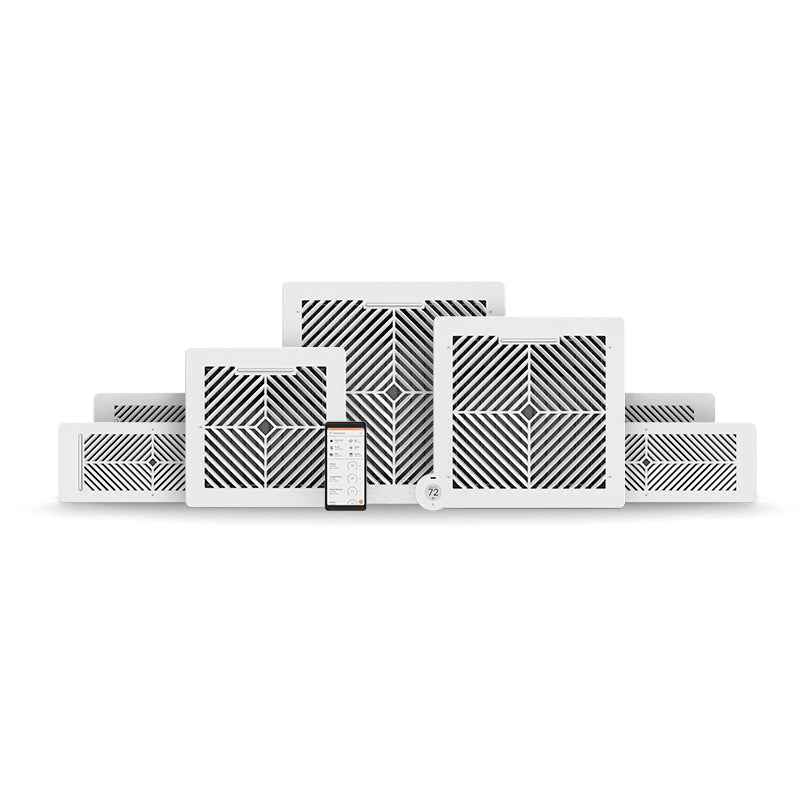 Flair Smart Vents
Intelligent Airflow for Your Home
Works with your central heating and cooling system to eliminate uneven room temperatures.
Multiple sizes available.
SHOP SMART VENTS
Flair Makes Smart Thermostats Brilliant...
Also compatible with non-smart thermostats.
The Flair Puck
Premium Remote Sensor
Works with Flair Smart Vents and smart thermostats to give you temperature control in any room.
SHOP FLAIR PUCK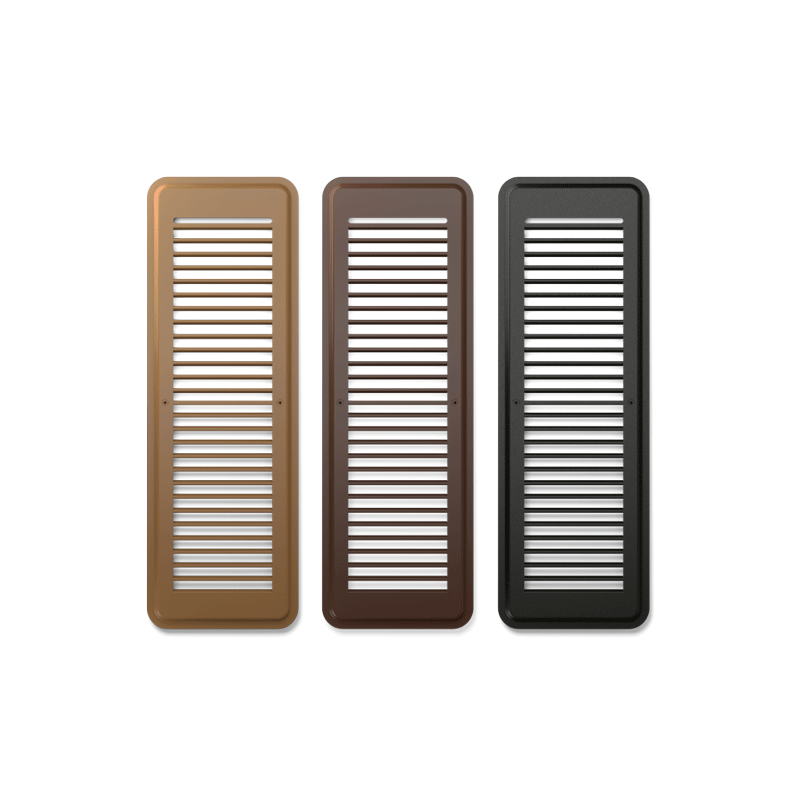 Smart Vent Covers
2-Way Grills designed for Flair Smart Vents
Available in multiple colors and sizes.
Shipping now!
Shop Now
Designing Your Flair System
A Room with Too Much Airflow

Have a room that's too cold in the summer and too hot in the winter? This room might get too much airflow. Start off with a Puck and a Smart Vent just for this room.

A Room with Too Little Airflow

Have a room that's too hot in the summer and too cold in the winter? This room might get too little airflow. Place a Puck in this room, and then use Pucks and a Smart Vents for the other rooms.

Even out the Temperatures between All Rooms

You'll need Pucks and Smart Vents for every major room in your home. If you have ecobee Remote Sensors, you'll need one Puck to bridge systems.

Icon indicates a temperature-reading device.
Can be a Flair Puck, ecobee Remote Sensor, or any compatible Smart Thermostat. At least one Flair Puck is required for every home
Will Flair work for me?
Try our comfort calculator to determine the best Flair system for your home!


"Huge fan of our Flair Smart Vents! Flair has saved us money over the last few years by not overheating parts of the house. Can't say enough good things about Flair!"

David G. | Verified Customer, 2023
The perfect temperature in your child's room

"Our nursery was always too hot in the afternoon and too cold at night.
With Flair, I can set my child's room to the perfect temperature without changing the temperature in our master bedroom."

Samantha T. | Verified Customer, 2023
Easy to use for the whole family

"Flair eliminated the thermostat battles that used to occur when my parents visited for long stretches. Now, my mom can control the temperature in her room from her smart phone. My kids even adjust the Pucks in their rooms all by themselves."

Jack | Verified Customer, 2023
Feel good and save energy

"Flair helps us reduce energy use and save money by only heating and cooling the rooms we're in. We're feeling comfortable and reducing our carbon footprint!"

The Adames | Verified Customer, 2023
Save energy and provide custom temperature control

"The Flair Puck is an excellent addition to our guest bedroom. It helps save energy when the bedroom is not in use, as well as provides a custom temperature for guests when the room is occupied."

Sean A. | Verified Customer, 2023
Featured in

Room-by-Room Scheduling

Set individual temperatures and schedules for each room. Save money heating/cooling occupied rooms.

Backpressure Protection

Flair limits the number of Smart Vents that can be closed at one time, keeping your HVAC system running efficiently.

Try Flair Risk Free

Every home is unique. Test out your Flair system and get peace of mind with our 60-day return policy.
Install in Minutes
Installation is as simple as taking out your old vent and dropping in a new Smart Vent. No drilling, no wiring, no wasted weekends.
FIND OUT MORE
Better than Zoning in Every Way
Flair Smart Vents cost 90% less than traditional zoning solutions and give you more control over the temperatures in your home.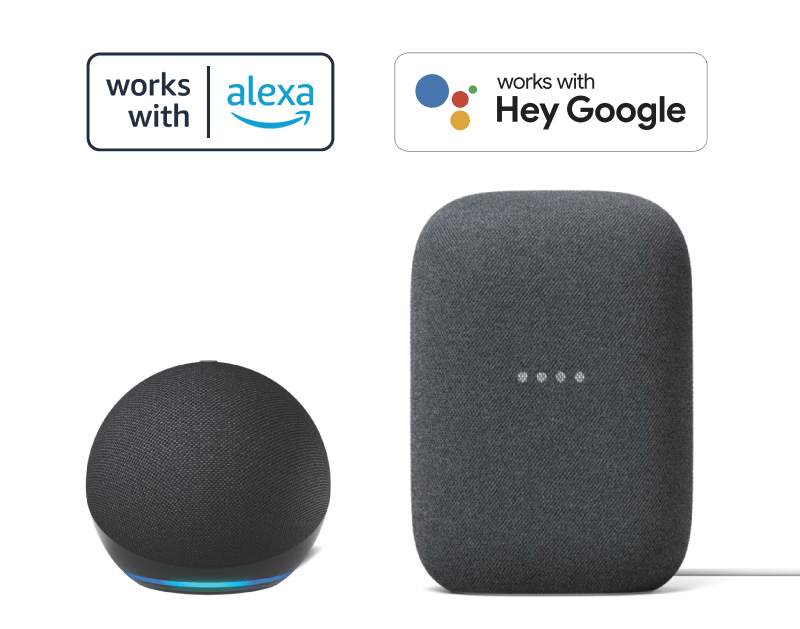 "Set the Living Room to 72."
Flair integrates with Amazon Alexa and Hey Google. Get comfortable without lifting a finger.
FIND OUT MORE
Best In-Class

HVAC professionals and installers love Flair Smart Vents. Why? We built a professional-grade Smart Vent at a consumer-friendly price.

Featuring 260ft radio range and onboard sensors.

Multiple Shapes & Sizes

Flair Smart Vents are available in many shapes and sizes.

Rectangular: 4x10, 4x12, 4x14, 6x10, 6x12, 6x14 and 8x10

Square: 8x8, 10x10 and 12x12

Installation Options

The only Smart Vent featuring an optional 24VAC powered installation option. It's perfect for contractors, builders, and home renovators.

Flair Smart Vents come with 2-3 year battery life.